Insights
Can Australia become a manufacturing nation again?
22/02/2023
Recent energy challenges facing countries around the world have reinforced the importance of energy as a critical input into economies. Increasingly it's also being seen as a source of competitive advantage.
While Australia has long had an energy advantage thanks to its significant coal and gas resources, new developments in the energy sector provide Australia with an opportunity to further strengthen this advantage. These new energy opportunities also have the potential for Australia to build its competitiveness as a manufacturing nation – particularly in energy intensive manufacturing.
Global coal reserves are currently at more than 100 years of current annual consumption levels. However, developing and exploiting new coal mines is becoming increasingly complex, especially in the developed world. Therefore, coal supply has tightened in recent years, and the global coal market has less capacity to respond to significant increases in demand.
Western Australia has been successfully tapping into its gas resources to use as inputs into manufacturing industries, power generation, and to provide energy to the world in the form of LNG. This has allowed the state to maintain a significant heavy industrial base alongside the emergence of a services-based economy, where other parts of the developed world have struggled to maintain this balance.
ACIL Allen has engaged with clients from a range of sectors interested in Western Australia as a place for manufacturing and downstream processing, on account of current and emerging energy advantages. The commitment by most major economies to decarbonisation and Net Zero objectives over the coming 20 to 30 years changes the game. There is an emerging view that manufacturing will move to where there are low cost, readily available sources of low and zero carbon energy.
The abundance of wind, solar and other primary energy sources represent a broadening of Australia's energy advantage and can turn energy from a source of disadvantage to advantage across the country. There's the potential for very low- cost electricity generation from renewable energy sources, along with the potential for renewable hydrogen as a substitute for industrial heat and chemical feedstocks. Very low-cost electricity generation could also lead to the development of renewable hydrogen for export in its own right.
Governments have recognised this and are working to catalyse the development of these industries through lands and infrastructure, public policy and regulatory settings, and provision of direct funding. However, it is important these initiatives remain market based and driven by the economics of the opportunity, not the public funding that is available.
In many ways industry is ahead of the curve. There are any number of examples of where industry is directly acting to reduce its carbon footprint and invest in capturing more of their industry's value chain in Australia.
ACIL Allen has been partnering with industry to investigate the economics, and economic impacts, of new industry projects across Australia, ranging from renewable hydrogen for export through to the production of Hot Briquetted Iron and renewable diesel from biomass. In each case, industry is building on an established strength (iron ore mining) or piece of infrastructure (electricity generation and transmission) to onshore parts of an industrial value chain long thought lost to Australia.
One recent project brings forward an example of how this dynamic can play out. The Western Australian Government, through its minerals research agency, the Minerals Research Institute of Western Australia, engaged ACIL Allen and engineering firm GHD to investigate the potential and implications of the decarbonisation of the global steel industry. Amongst the many findings and directions of this study, one output in particular has stayed with us.
Steelmaking is one of the most emissions-intensive parts of the global economy. When compared to the emissions of countries around the world, the emissions from steelmaking and the associated input value chains are the third largest source of emissions globally, behind the country-wide emissions of China and the United States respectively.
A typical tonne of steel produced through a conventional blast furnace-based steelmaking pathway results in the release of just over two tonnes of carbon dioxide. A technology which is already in commercial use today – Hot Briquetted Iron production utilising natural gas, with steelmaking via an Electric Arc Furnace – releases just 0.9 tonnes of carbon dioxide. What is most promising however, is the potential use of renewable hydrogen in place of natural gas, and renewable electricity as a source of energy for the Electric Arc Furnace, which can reduce these emissions to nearly zero.
Figure 1: Carbon emissions intensity of steelmaking, tonnes of CO2 equivalent emissions per tonne of steel produced via alternative pathways.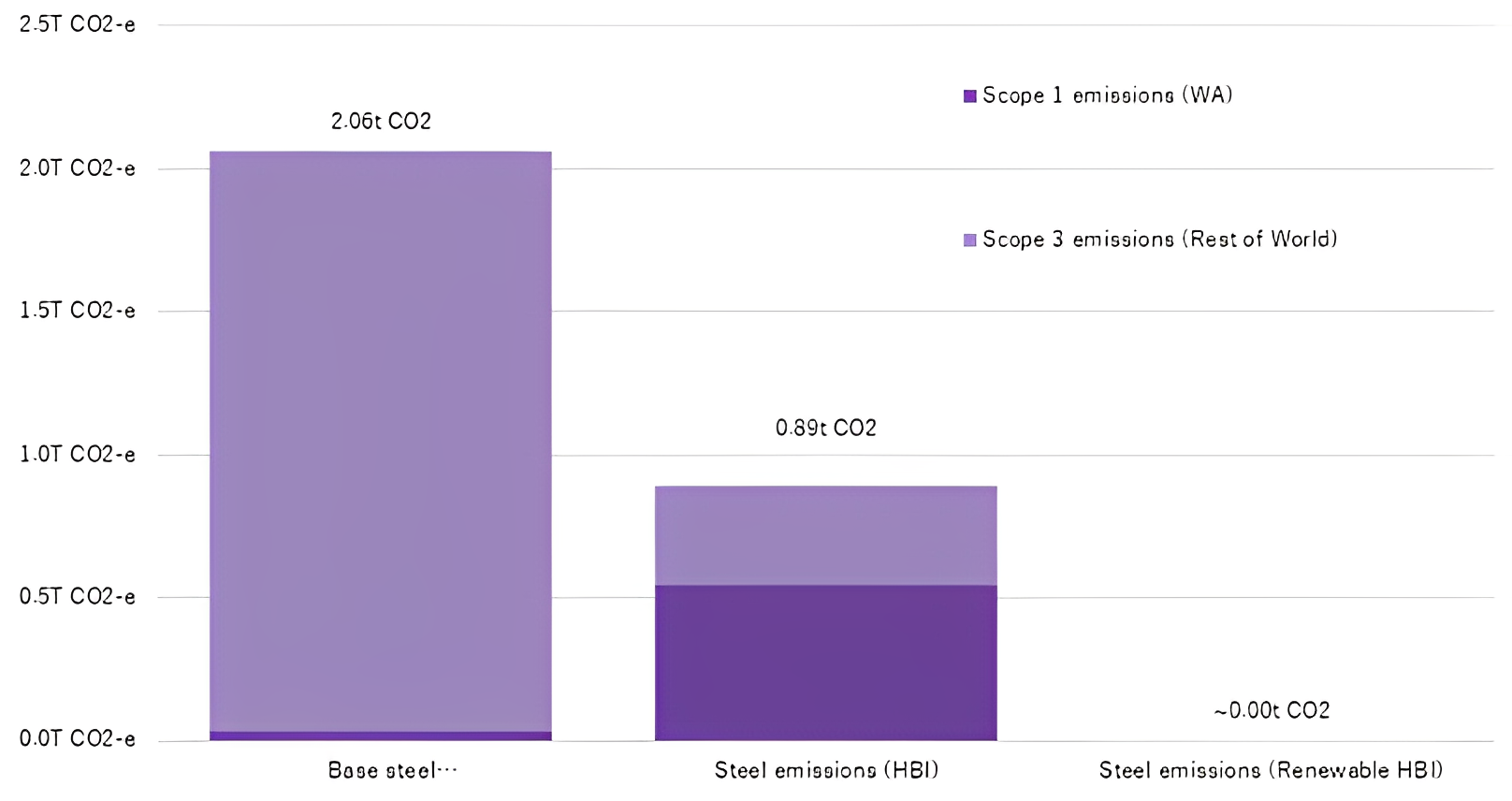 Source: Green Steel Value Chain Assessment (ACIL Allen, GHD, MRIWA)
It is not surprising then that the Western Australian Government is actively investigating means and ways it can help catalyse this opportunity, particularly given its abundance of iron resources and extensive renewable energy resources.
These sorts of new industry development plays will not be overnight success stories. Just like the 20 years it took for Australia to claim its place in the emerging Liquefied Natural Gas market after the development of the North West Shelf project, capturing new industries is a long-term proposition.
Industry and government must look to the long-term and consider the most economic pathways for Australia to foster these development opportunities. To best capitalise on our emerging energy advantage, it is likely we will need to accept some upfront costs, be that in the provision of common user infrastructure, temporary increases in our domestic carbon emissions, and further investment in research and human capital.
But the payoff will be a new source of competitive advantage for Australia, and global benefits through reduction in carbon emissions throughout the full value chain across a range of industries. The opportunity to simultaneously develop, diversify and decarbonise our economy is too good to let slip.